My workmate asked me for help, her QuickBooks could not send forms, click help, got the following message,
If QuickBooks can't send the forms you attempted to mail or email, restart QuickBooks and resend the forms.
If the problem continues, contact QuickBooks Customer Support, or visit QuickBooks support for more help working with PDF files.
the environment she uses is, QuickBooks 2012 Pro on Windows 7 64-bit.
After some research, QuickBooks 2012 Pro use Microsoft XPS Document Writer as its Virtual PDF Creator, not Amyuni Document Converter.
When I tried "Print test page" with Microsoft XPS Document Writer, I got the following message,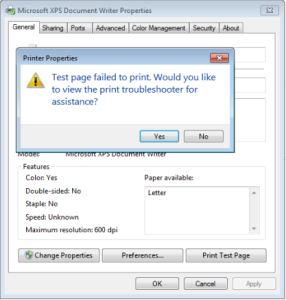 After some research, I got the reason, because of the limit space on Drive C, I move the  temp folder to d:\temp. When I set the permissions for that folder to "Authenticated Users – Full Control" everything worked again.